Legal & Compliance at the Zürcher Kantonalbank is setting an example. As one of the first banks ever, Legal & Compliance is using Legartis' artificial intelligence to check contracts. Find out why and how Zürcher Kantonalbank is using Legartis profitably in contract review in this interview with Tom Fischer, General Counsel of Zürcher Kantonalbank since 2017.


Mr Fischer, what importance does the digitalisation of the legal department hold for you?
Tom Fischer: Employees of legal departments have to deal with digital issues from both a legal and a user perspective. Until recently, Legal & Compliance at Zürcher Kantonalbank for example still kept paper files. We see the potential of digital tools in increasing process efficiency and have launched projects to explore suitable legal tech solutions beyond the areas of digital file management and case management. We proceed in a structured manner; first analysing needs, working methods and processes, before then evaluating legal tech solutions.
Digitalisation has also changed us in our advisory services. We advise on many projects within the regulated domain. Their agile project structure also required us to rethink. We had to learn this agile approach and create tools that enable those responsible for the project to recognise which issues are relevant and need to be addressed from a legal perspective.
Where do you see challenges in the legal department that require short-, medium- and long-term solutions?
One focus is on relieving the staff of activities that offer little opportunity for differentiation in the market, but are nevertheless time-consuming and thus absorb valuable resources in the Legal & Compliance department.
We want to serve as a navigator for the line offices for future-oriented topics that create added value in the business. The challenge is that we have to guarantee the existing service level in day-to-day business without compromising quality at the same time. And this is exactly where legal tech solutions can help to complete such tasks more quickly and maintain a high level of quality.

Why now? How does Legartis fit into your digitalisation strategy?
With the NDA and DPA Checker, Legartis handles contract formats that need to be carefully checked, are frequently used and yet are not differentiable. Non Disclosure Agreements (NDA) and Data Processing Agreements (DPA) are also very suitable for gaining initial experience and building trust in the software.
With the possibility of standardising company-specific requirements via a contract playbook, efficient quality assurance can be built in at the same time – a task which could only be achieved with time-consuming training and checks in the manual testing process. Finally, Legartis also offers the possibility of bringing in our industry-specific contract types and to jointly develop solutions for them.
What potential is released for the Zürcher Kantonalbank through the automation of contract reviewing? What problems are solved in the process?
The potential is not only in the standardisation of review processes but for helping us achieve efficiency gains at the same time. For example, review processes that are currently carried out by specialised legal counsels could be carried out by procurement specialists without legal training, largely independently and with consistent quality.
The legal counsels are relieved and can devote themselves to the tasks that are really decisive for business development. And they are also available for procurement, e.g. for those negotiations in which a contract cannot be negotiated within the specifications of the playbook.
You have chosen Legartis as your solution partner. Which aspects played a deciding role in your decision?
For us, the deciding factor was that Legartis holds an excellent reputation in the legal tech sector and its software is easy to understand and intuitive for users.
Legartis also stands out due to its availability of developers and engineers in Zurich, their proximity and their flexibility in covering our needs.
Which prerequisites did you have to meet internally in order to convince the legal department of using an AI solution?
Most users have never worked with comparable software before. The way AI works and the presentation of results from its analysis, which embeds itself in the document to be reviewed, was new to many.
It is important that staff are introduced to the new solution, understand how it works and build trust in the automated review processes over time. This process is not completed at any point in time, but must be continuously maintained – in short, in particular a cultural change must be brought about.
What experiences marked the first collaboration with AI? How is artificial intelligence received?
We were able to gather experience quickly and provide feedback, which Legartis incorporated into the development of the product. The pilot employees were quickly convinced by the simplicity of the user interface and usability.
At the same time, some fundamental skepticism did have to be overcome. Some still wanted to read and "mark" the documents they had checked. But trust in the solution increased over time. Through intensive exchange with the experts from Legartis, we were also able to gain insights into how such software is structured and how to train an AI.
What potential are you seeing with Legartis today? What potential would you like to see in the future?
We use Legartis for checking NDAs and DPAs. Here we can use a standardised process and at the same time understand our internal company specifications as they are programmed into the playbooks.
We see potential for using Legartis in other areas as well, such as in the review of licensing agreements, but also in other industry-related contract types.
Considering Zürcher Kantonalbank as a pioneer for using artificial intelligence in the legal department, in your opinion should financial intermediaries, particularly banks, increasingly embrace the topic of legal tech? And why?
Absolutely! All banks are under constant pressure to simplify their processes, become more efficient and also reduce costs. At the same time, the requirements in the area of compliance are particularly high. And no one can or wants to cut corners here. This is precisely why it is the duty of a legal service to recognise and use the potential of legal tech solutions, and especially AI solutions, for its own processes.
Tom Fischer, who holds a doctorate in law, has been General Counsel of Zürcher Kantonalbank since 2017 and is responsible for Legal, Compliance and Tax. After studying and working at court, he qualified as a lawyer and then worked as an attorney in a Zurich law firm. His career finally took him to the financial industry, where he held various management positions in banks and insurance companies, most recently as General Counsel of UBS Switzerland AG.
A practical guide through legal tech solutions in the contract lifecycle. Download now for free.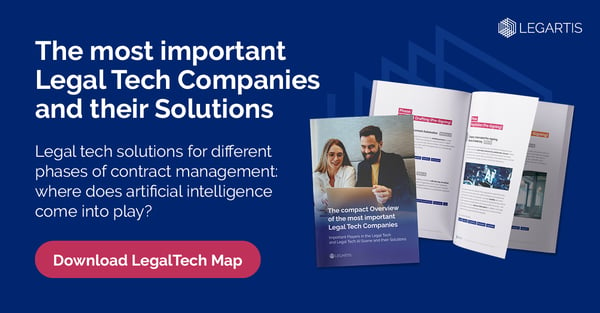 Recommended Articles
AI in contract review: best practice with Arvato
Artificial intelligence speeds up contract review: Arvato Bertelsmann is introducing AI from Legartis in and outside the legal department. Find out why this collaboration has..