Nasdaq analysts estimate the legal tech market in 2021 at 14 billion US dollars in the USA alone. The industry is booming, including in the DACH region. This comes as no surprise; after all, legal tech companies promise that their applications will bring massive time and cost savings to legal departments and law firms. But which solutions offer support in which area? Our article provides an overview of some of the most important players in the legal tech scene and their legal software.
Areas of Application of Legal Tech
Legal tech is used in a variety of legal fields. Due to such a large number of legal tech solutions, we will focus on the specific area of application within contract management or in the following phases of the contract life cycle:
Contract drafting (pre-signing)
Negotiation (pre-signing)
Signing
Document analysis (post-signing)
Solutions that cover all phases of the contract life cycle are summarised in the legal tech world under the term Contract Life Cycle Management (CLM provider). However, specialised providers can also be found in the market that offer support for each phase of the contract life cycle. By focusing on a specific use case, these solutions are in part more intelligent, but above all faster to implement than those of general CLM providers.
Applications of AI in the Contract Life Cycle
The number of ways that artificial intelligence (AI) can be applied to the contract life cycle is still relatively small. Legal Tech AI is mainly used in the following phases: contract authoring and review before signing (pre-signing), and document analysis after signing (post-signing). These areas of application are a result of the fact that the full power of AI unfolds during text-based analysis.
What differentiates different AI providers is the performance of their algorithms and the training requirements of their AI. In this case, users should form their own opinions via product demos and personal contact.
In the following overview, we take a closer look at specialised legal tech companies with and without AI, as well as CLM providers.
Our legal tech overview does not claim to provide a complete market overview. This is not possible given the dynamics of the industry. Instead, we present some important and/or established providers for different use cases and thus provide a starting point for your further research. The criteria used for selection and classification are based on the information available on the respective company websites.
Overview: Specialised Legal Tech Providers
Phase: Contract Drafting (Pre-Signing)
Category: Document Automation | Without AI
Document automation solutions simplify the drafting process by using standardised templates. These can usually be created without in-depth programming knowledge, as users only have to answer a few questions about the context of their contract, from which the application can automatically generate the final legal documents.
Well-known providers: Bryter, Lawlift, Woodpecker, Hotdocs, Documate
Category: Drafting | With AI
Other solutions support users in drafting contracts with the help of artificial intelligence. Here, the AI has access to legal texts and/or other databases, and uses this information to make suggestions for optimising draft contracts directly in the text editor – concerning text additions or problematic references within a document, for example.
Well-known providers: Donna Legal, ClauseBase, Lexis for Microsoft Word, Henchman, Loio
Phase: Negotiation (Pre-Signing)
Category: Automated Pre-signing Review & Redlining | With AI
Some innovative legal tech applications also use artificial intelligence and/or machine learning to check draft contracts for problematic clauses. This is called automated contract review. These smart algorithms compare documents with corporate standards and legal texts. However, these solutions differ considerably in their performance and the AI's understanding of language, as well as overall user experience.
Not all systems contain pre-trained AI. Many applications require their users to check and correct the results of the artificial intelligence over weeks and months themselves before it can become a real help. Usability also varies greatly: with some providers, users have to export the documents they want to review to another tool or transfer them to the review platform by email – with Legartis, all they have to do is click on a Word add-in. In addition, most legal tech AI providers come from the English-speaking world, so some of these solutions do not fully support the German language.
Well-known providers: Legartis, Lawgeex, ThoughtRiver, Blackboiler, LegalSifter
Phase: Signing
Category: Digital Signature (eSignature) | Without AI
Business partners no longer have to sign contracts on paper to make them legally binding. It is much faster and more convenient to sign contracts using digital applications that companies can then seamlessly integrate into their processing procedures, via add-ins or plug-ins.
Well-known providers: Adobe Sign, HelloSign, Skribble, SignNow, EverSign
Phase: Document Analysis (Post-Signing)
Category: Document Analysis | With AI
After contracts are signed, legal AI solutions can help companies extract important data from contracts in order to meet deadlines and make knowledge from contracts more readily available within the company. With the help of these contract analysis tools, lawyers can view rulings on a specific issue across several contracts in a fraction of the time it used to take, for example in the case of an important deal or change in regulations.
Well-known providers: Kira, Luminance, Leverton, EigenTechnologies, Applica
Overview: CLM providers
All phases: Contract Life Cycle Management (CLM)
CLM solutions focus on organising contract management workflows more efficiently. Some of these solutions cover the entire contract life cycle, while others focus on select areas within contract management. They differ from specialised providers in the breadth of their application areas. CLM providers also rely on AI technology – some in the entire contract life cycle, others only in sub-areas or not at all.
Well-known providers: Juro, Concord, PandaDoc, DocuSign, Agiloft, Ironclad, ContractWorks, Conga, ContractPodAI, (Legisway)
CLM Solution or Specialised Provider?
Anyone who wants to introduce legal tech into their organisation must clarify one question for themselves: do I want to go for a CLM solution that covers all or many contract phases, or do I opt for a specialised provider? At first glance, the answer may seem clear: why opt for the digitalisation of only one contract phase when you could optimise the entire contract life cycle with a CLM provider?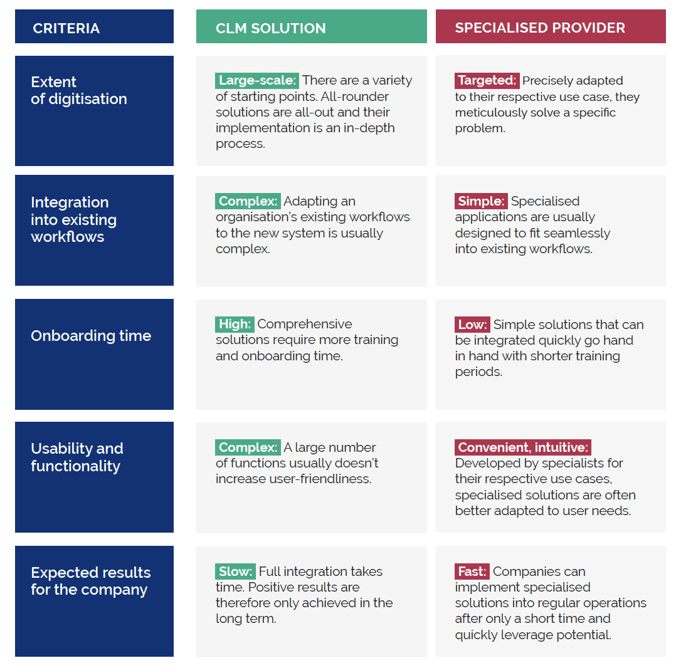 What companies should consider when selecting legal tech companies is that in order for CLM solutions to deliver their maximum benefits, organisations usually must make extensive adjustments to their existing workflows. This requires time and money and is associated with high training costs. Specialised legal tech solutions are different, because they are usually integrated more quickly into existing workflows and enable companies to improve their overall processes step by step. After only a short time, specialised solutions are ready for use in the company's regular operations.
Perhaps however the most important argument in favour of niche solutions is that their developers are specialists in their respective use cases. Their applications are therefore usually superior to all-rounders in terms of functionality and usability.
So, instead of introducing a single all-promising legal tech platform, combining specialised legal tech applications and putting together an individualised set-up is often a more successful and agile approach.
Recommended Articles
Contract Analysis Software: What does it do?
Contract Analysis Software: An Introduction Contract analysis software makes it possible to quickly and easily analyze contracts and extract important information. This helps..