The creation of a contract playbook is undeniably practical: using clear instructions you can ensure consistent contract review is done by all staff. Contract playbooks lead to more efficient contract negotiations and secure internal know-how. In addition, contract review manuals reduce the number of repetitive questions directed to the legal department.
But before you can reap all of these benefits, you need to first create your contract playbook. Many companies shy away from this supposedly Herculean task. Surely a manual that is supposed to clarify all questions about a contract once and for all requires a large time investment?
Actually, if approached properly, you can draft your own contract playbook in a matter of days. We explain here how, in just 5 steps, to create a contract playbook. If you follow our step-by-step guide, you'll soon have created a well-structured and effective contract negotiation manual of your own.
Wondering if, when and why you need a contract playbook at all? You can find answers here: Contract Playbook: Why You Need it.
Creating a contract playbook? First, clarify these questions
You're on the starting block and want to see results quickly. That's understandable! Nevertheless, take the time at the beginning to make three basic decisions regarding the contract playbook:
1. Format: what format do you want your playbook to be in?

The possibilities range from a classic document folder on the shelf, to an Excel spreadsheet in Sharepoint, to a completely digital playbook integrated directly into your systems. Also consider how employees will access the playbook later. Whichever format you choose, it's clear that making access as barrier-free and easy as possible will improve the acceptance of your work.
Tip: at Legartis, the contract playbook is embedded in the LegalTech software. To ensure that the AI and playbook work together optimally, we provide our clients with a contract playbook template.
2. Contract type: which contract type should your playbook deal with?
Strictly separate different types of contracts: each contract type gets a separate contract playbook. Start with one contract type – preferably a highly standardised one such as non-disclosure agreements (NDA) or order processing agreements – then gain experience and gradually add more and more contract types.
3. Task force: who needs to be involved in the creation of the contract playbook?
Contract policies are driven by the needs of all departments. Therefore, include various stakeholders, their expertise and their experience in the process. The people who have to solve daily challenges in contract review and negotiation have a wealth of experience. You should draw on this in the preparation of the contract playbook.
Additionally, it doesn't hurt if you communicate the project, its purpose and the general procedure in advance. Nobody likes to be surprised. Give the people involved a chance to prepare. This way, they can already get to thinking about the topic and the information that follows will be of higher quality.
Tip: external experts such as lawyers and consultants can also make a valuable contribution to the preparation of your contract playbook, especially if they have experience in implementing one in different companies. Note, however, that in most cases you should not delegate this task in its entirety.
5 Steps to a Contract Playbook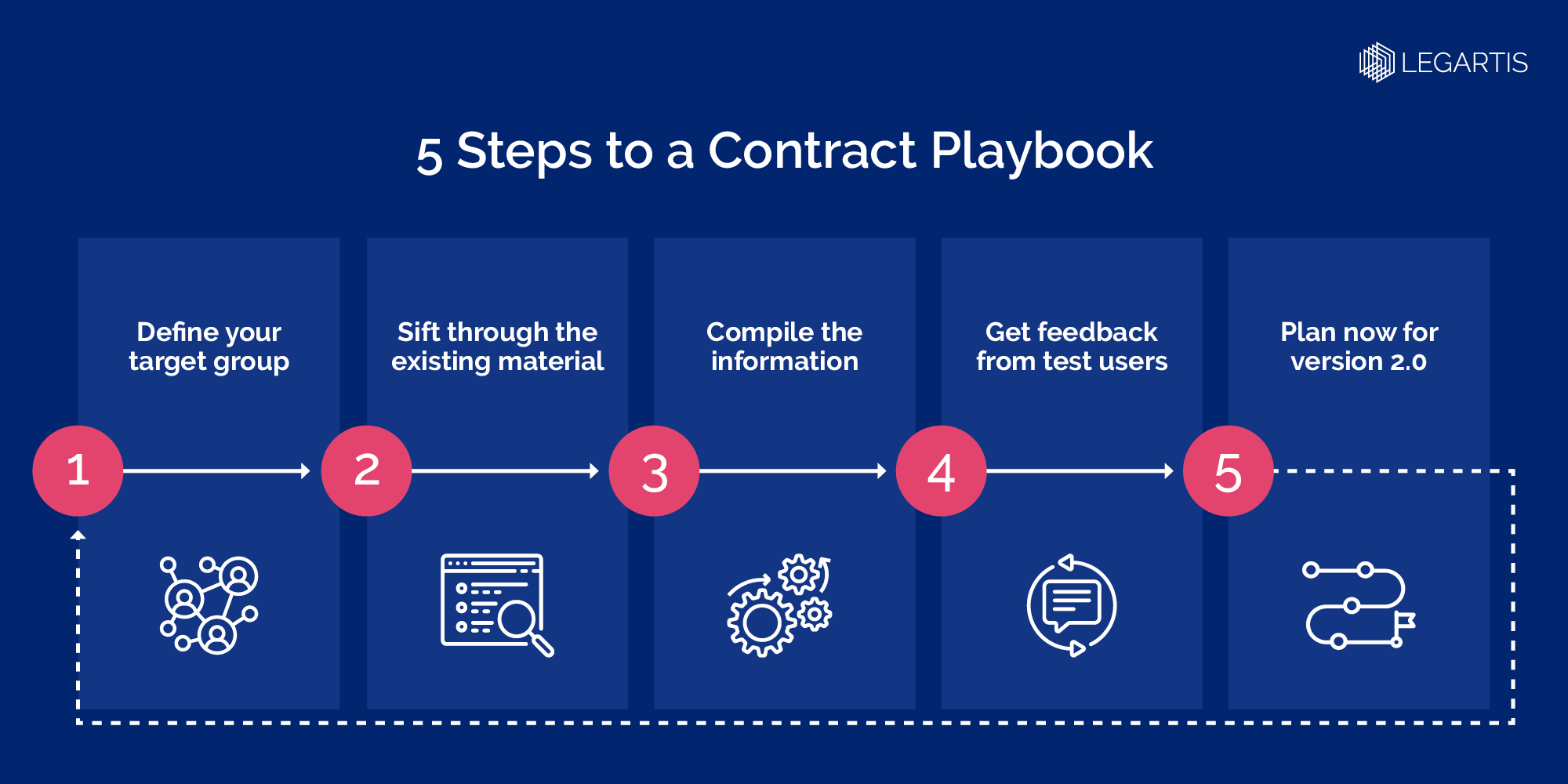 1. Define your target group
The first step is to think about your target group. Who will use the contract playbook in the future?
The legal team itself?
Legally trained and experienced business users?
Employees from sales and other departments who are completely unfamiliar with the subject?
The compliance team?
The needs of lawyers do not always coincide with those of employees from specialist departments. Simple structures and phrasing facilitate their access to legal expertise. Keep a clear differentiation in mind: the explanatory meta-text around the standard clauses holds the reader's hand, while the technical content remains razor-sharp and clear from a legal point of view.
For lawyers, it can be challenging to take off the "professional glasses" and look at the issues through the eyes of a business user. Therefore, be sure to get support and take feedback seriously (see step 4). If the playbook is to add value for your target audience, it needs to present the information they need in a way that's usable and immediately accessible to them.
2. Sift through the existing material
The next step is to collect the content of your contract playbook, without initially sorting through it. A contract playbook should include internal guidelines on the structure and content of the chosen type of contract and guidelines for its negotiation:
Standard contract texts
Acceptable deviations from them
Desirable clauses which can, however, be lived without
No-gos that stand in the way of concluding the contract
Criteria for the required place in the contract document
Hints and tips from legal practice
Best practices from previous contract negotiations
The good news is that this knowledge is already available, scattered in individual documents, databases or in the heads of your legal experts. You just have to find it! Pull the information together from all available sources.
Tip: contract templates offer a reliable guide for creating your contract playbook. They contain information like standard clauses that have already been approved, which you can transfer directly into your contract playbook.
3. Compile the information
You'll want to standardise your contract language and summarise all the important information about a contract into a straightforward, helpful format. Therefore, on the one hand you should now set about sifting through the collected content, verifying it and correcting it if necessary.
On the other hand, organise the content and group it into the individual chapters of the playbook. Make sure you have an intuitive, sensible structure that offers the reader an overview of the contents of the playbook. A contract playbook template is helpful here. In the course of this process you'll quickly recognise which information is missing and needs to be added.
Tip: the contract playbook should reduce the number of repetitive questions directed to the legal department. To achieve this goal, the contract guidelines should not be formulated too rigidly. Provide contract playbook users with an alternative wording per legal topic and clause.
4. Get feedback from test users
Conduct a test run first by yourself and then with 2-3 colleagues. It's important that they come from different departments and have different backgrounds.
Test whether your instructions in the contract playbook are comprehensible and whether the contract playbook contains all the necessary information, or if certain instructions are missing. Adjust your draft afterwards and iterate!
5. Plan now for version 2.0
Your contract playbook forms the basis for future contract review and negotiation for you and your colleagues. In order for your contract playbook to be accepted widely, two elements are key:
Designate a person responsible for keeping the contract playbook up to date.
Open a channel for continuous feedback (e.g. Q&A meetings).
Your contract playbook will never reach a final version. That's not the point! Rather, think of it as a living tool that changes with the demands of the business world. Ideally, you should integrate your manual into a legal software for automated contract review.
How to Create a Contract Playbook: 3 Key Takeaways
The task of creating an enterprise-wide contract playbook sounds challenging, but if you take it step by step, the process becomes manageable. Typically, it only takes a few days to produce the first draft.
Before you start working, define the format and contract type of the contract playbook. Also, get your stakeholders on board with the project.
Gathering, analysing and preparing the required information takes up most of the time. To do this, draw on the knowledge of seasoned experts and existing contract templates. This way, you won't get lost in a maze of clauses.
Recommended Articles
Contract Analysis: What is Achievable with AI Today
Contract analysis is a crucial process in the business world, aiding in risk minimization, ensuring compliance, and maximizing value from business relationships. With ongoing..