How to Prompt Effectively as a Lawyer
ChatGPT has triggered a significant hype around Artificial Intelligence. Some background knowledge to begin with: ChatGPT falls under the category of Large Language Models (LLMs). It has been trained for the task (referred to as fine-tuning) of answering questions like a human. ChatGPT relies on a vast amount of data to generate output (find more information here). It is important for legal professionals to know that ChatGPT has limited access to legal expertise since legal literature is largely not freely available. This means that ChatGPT can provide only limited valid answers to legal questions.
However, there are other LLMs specifically trained for legal tasks. These are referred to as Legal AI and are capable of effectively supporting legal professionals in their daily tasks.
In this article, we aim to provide you with an initial insight into the capabilities of ChatGPT. We will show you how to get started with the tool and make the most of it. You will find some guidelines on what to consider when using the so-called prompting feature in ChatGPT.
ChatGPT for Lawyers: Some Preliminary Notes
Data Privacy with ChatGPT
Please note that ChatGPT processes all data you enter on American servers. For this reason, you should refrain from uploading confidential information to ChatGPT.
Verify the Answers
ChatGPT is designed to provide responses. Even if ChatGPT doesn't know the answer, it will still generate one (this is called hallucinating). Whether the answer is correct or not, it is up to you to verify it.
Limited Legal Data Availability
As mentioned, ChatGPT has limited access to legal documents since they are often not freely available. Additionally, ChatGPT is not trained on different legal systems. As a result, the quality of outputs related to legal tasks and questions is reduced accordingly.
Legal Use Cases
Due to points 1-3, the usability for legal professionals is somewhat restricted. However, ChatGPT can still be useful in daily work for:
Content Drafting (letters, clauses, project plans, lists, ...)

Translations

Research

Analysis
Before starting with ChatGPT: Register yourself
1. First, register with ChatGPT. Go to the registration page of OpenAI.com and create your account. You need to provide your name, email address, and phone number.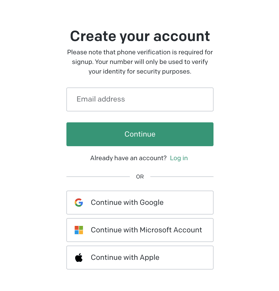 2. If you are logged into ChatGPT, start a new chat.

3. Use the chat box to start a chat or to enter a prompt..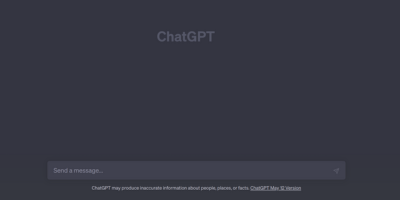 4. Please install ChatGPT for the Chrome browser as well. You can also access ChatGPT directly from the Chrome browser. Follow this link and the instructions.
How to use ChatGPT as a lawyer
Imagine ChatGPT as a recent college graduate who has just joined your company. They have no idea what you want from them or what you expect. They need clear instructions and context from you to satisfactorily complete a task. It's the same with ChatGPT. Be specific: Should the output be based on scientific, historical, or legal data? What tone of writing is required - professional like a lawyer, concise like a journalist, or a brief joyful message to a friend? Provide the task description (known as a prompt) to ChatGPT as clearly as possible. You may also provide text snippets for ChatGPT to read before delivering a response.
What is needed to get good answers from ChatGPT?
Write clear and specific instructions (prompts) about what output you desire. Longer prompts generally generate better output as they provide more context to ChatGPT.

Specify the type of research and "thinking" ChatGPT should employ (scientific, legal, historical, journalistic, etc.).

Specify the writing tone (formal, informal, joyful, factual, etc.).

Provide context for what ChatGPT should write about.

Give clear instructions about the length and format of the output.

Use """ to separate context and content.

Provide text snippets for ChatGPT to read or analyze in advance.

Give examples of the desired output to ChatGPT.
Note: There is a limitation with the free ChatGPT 3.5. You can only enter 3,500 words in a prompt. This means you are limited with lengthy texts that you want ChatGPT to read.
7 Prompts for Testing
In general, there are hardly any limits regarding questions or tasks for ChatGPT. Simply try it out yourself and keep in mind: ChatGPT interacts with you like a recent college graduate. Be as specific and precise as possible and provide context.
Prompt 1: Composing a LinkedIn post as a lawyer
Do you want to inform the LinkedIn community about a successful merger? Let ChatGPT quickly provide you with some ideas.
Input in the ChatGPT field: Write a LinkedIn post like a lawyer. Write it in a joyful and enthusiastic tone. Use a maximum of 200 words. Write about how a company successfully achieved an important merger. List the key points that led to its success.
Prompt 2: Informing the marketing department about GDPR as an in-house legal
Marketers are not fond of lengthy texts. Get text input from ChatGPT on how to inform marketing employees concisely about GDPR.
Input in the ChatGPT field: First, read this text: """https://en.wikipedia.org/wiki/General_Data_Protection_Regulation""". Create an easily understandable text for all marketing employees of a company, covering the General Data Protection Regulation (GDPR). The text should not exceed 250 words. Create a list of the key facts.
Prompt 3: Extracting data from legal documents
While it is not appropriate to disclose personal data to ChatGPT, it is possible to extract information from legal documents. Try it out yourself using a sample template of an NDA and use this prompt.
Input in the ChatGPT field: Read the NDA provided below, marked with """. Then create a list with: - Jurisdiction: , - Applicable law: , Contracting parties: ; """COPY AND PASTE YOUR TEXT HERE"""
Prompt 4: Creating a structure for the annual report as an in-house legal
Input in the ChatGPT field: Write like a lawyer. Create the structure for an annual report for a publicly listed company in Germany. Structure the report according to the rules of other publicly listed companies in Germany.
Prompt 5: Planning and implementing a Legal Tech project
You are planning to introduce a Legal Tech solution for automated contract review soon and need some guidance on how such an implementation plan could look like.
Input in the ChatGPT field: I am a Legal Tech specialist advising a company on how to implement contract review software. Create a 12-week plan using the Waterfall methodology. Put the planning steps into a table. Divide the plan into the following phases: - Requirements, - Analysis, - Design, - Implementation, - Testing, - Deployment and Operations, - Maintenance.
Prompt 6: Drafting a letter to the client regarding a legal dispute - Swiss law
Input in the ChatGPT field: You are acting as a lawyer. Write in a specific and factual manner. It is about a dispute between two parties. Your client wants to increase the height of the garden fence by 1.50 meters, but the other party, the neighbor, objects. Write a letter to your client stating whether it is possible or not, basing your argument on Swiss law. Summarize the main 5 key points in a list.
Prompt 7: Proofreading texts or letters
You have written a letter or text and would like to have it proofread, or perhaps identify areas for improvement? ChatGPT can assist you with that.
Input in the ChatGPT field: First, read the text below, marked with """. Review the text like a lawyer. Create a list of suggested improvements. """ENTER YOUR TEXT HERE"""
Key Takeaways for Lawyers using ChatGPT
You quickly receive summaries, lists, project plans, arguments, letter drafts, or suggestions for improving texts from ChatGPT. Many people use ChatGPT as a source of ideas when they encounter obstacles in their daily work. It supports a lawyer like a recent college graduate - providing good starting points, but the results still need to be reviewed and revised by oneself.
ChatGPT has not been trained to provide correct legal answers specifically for lawyers. For that purpose, there are LLMs or Legal AI systems that have been specifically trained, such as Legartis' Legal AI. We have created a dedicated guide on this topic. Learn about the possibilities that Legal AI offers to legal departments in the field of contract management with our Legal AI Guide.
Recommended Articles
Contract Analysis: What is Achievable with AI Today
Contract analysis is a crucial process in the business world, aiding in risk minimization, ensuring compliance, and maximizing value from business relationships. With ongoing..
Contract AI: Application Areas of AI in Contracts
Contracts are a ubiquitous element in business life. They document past successes, define current obligations, and provide a roadmap for future opportunities. The management..
Chat GPT and Large Language Models in a Legal Context
Large Language Models and ChatGPT for Legal Professionals Interview with Boas Loeb, Product Manager Data, Legartis