"By 2024, companies using advanced contract analysis solutions will halve the manual effort to review contracts." – Gartner Inc. With this thesis, the leading provider of market research results and analyses on developments in IT is making people sit up and take notice. Automated contract review is increasingly becoming the focus of many ambitious companies that are constantly looking for new legal tech solutions and aim to optimize their legal operations.
In this article you will learn what is behind the term automated contract review and why this can become the future for in-house lawyers in large legal departments.
Automated contract review: A further step towards digitalization
Digitalization in the world of work is progressing incessantly and brings a great deal of potential with it in the respective industries. Companies want to exploit this in the best possible way in order to generate new competitive edges in the competitive market. The keywords "legal tech" and "automated contract review" are used more and more frequently especially in the legal field. Many meetings are also only held via video conferences and the use of cloud-based applications for work in the home office has become commonplace. Companies are specifically looking for new innovative tools with potential to make the workflow as efficient as possible and to generate new sales. One of these new potentials is automated contract review, which was developed above all for legal departments with more than 500 employees. With its help, hundreds of hours of work per year can be saved, while the company continues to deliver high-quality work results, which are even better than before.
What is automated contract review?
Automated contract review is an AI-supported application, which analyses a contract clause by clause and structures the results for the user. The software guides the user through the contract review and gives instructions on how to deal with clauses, which are not in conformity with the company. The review and analysis takes place within seconds and delivers meaningful and precise results. Automated contract review is based on the use of artificial intelligence (Legal AI), which is pretrained and is continuously trained with new types of contracts and data sets. The AI is therefore always up to date and well prepared to review numerous types of contracts. The AI can currently draw on the knowledge of hundreds of contracts and uses pre-defined clusters, in order to achieve the highest possible level of accuracy when reviewing.
Case studies have shown that automated contract review can speed up the entire review process by up to 80 percent. In addition, it makes up to 90 percent fewer mistakes during the review and analysis.
The software reliably recognizes the problematic clauses in the contract, compares these, for example, with the company guidelines and independently suggests solutions for the existing problems. During the review, the software also automatically recognizes which language is used in the present contract and adapts to it without any problems. Automated contract review reveals its full power during the pre-signing phase, when the contracts have to be negotiated with a counterparty. Within seconds the AI delivers meaningful results and points out critical points in the contract, so that you can react to them and adapt the contracts according to your guidelines.
6 good reasons for automated contract review
Automated contract review based on pre-trained artificial intelligence brings a wealth of advantages to legal departments. You can see a list below of six good reasons, which speak in favor of an AI-supported contract review:
1. More capacity
Automated contract review gives companies more capacities through split-second analysis and review of contracts and thus saves employees valuable time for strategically important matters.
2. Less cost
Free resources are often scarce in companies. With the innovative contract review you can make optimum use of these and save costs effectively The accelerated process not only allows you to shorten the duration of the review, but also to do business with customers more quickly.
3. Higher quality and efficiency in the review process
The software automates the contract review process and creates new standardizations in your workflow, which are noticeable in the form of higher quality and efficiency. In addition, you comply with your company guidelines at all times and securely conclude customer contracts.
4. Fewer risks
Many contracts fall through the cracks of a review without automatization – with considerable risks to the company from liability clauses. These risks are eliminated. By its objective, standardized contract review also reduces the error rate, which leads to noticeable improvement in compliance.
5. More insights
Due to the AI-supported contract analysis and the clear instructions for action it is comprehensible why certain clauses have to be added, amended or deleted during a contract review.
6. Fewer blind spots
Controversial decisions can be shown by the automated contract review in a comprehensible and data-supported manner. It increases transparency when reviewing contracts and sustainably supports an objective view of the facts.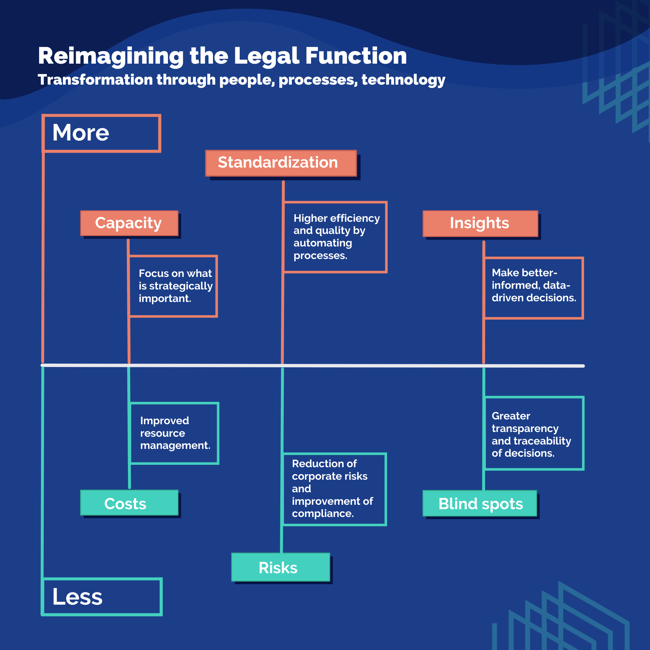 Automated contract review: Is it worth it?
Based on a few defined criteria, it can be quickly determined whether in-house lawyers or companies with an integrated legal department would benefit from the software.
In addition to a number of employees from approx. 500 upwards, automated contract review is particularly worthwhile if the legal department is very busy with reviewing and analyzing contracts and can therefore no longer provide the company with strategic advice to the extent desired. Automated contract review achieves the greatest efficiency above all in reviewing contracts of the same type, such as order data processing contracts, non-disclosure agreements or work and service contracts. By means of the processing of routine contracts, the work processes can be standardized, which in turn leads to measurable improvements in work results in terms of quality and efficiency.
Furthermore, automated contract review provides support during the pre-signing phase, when the contracts have to be negotiated with a counterparty. Within seconds the AI delivers meaningful results and points out critical points in the contract, so that you can react to them and adapt the contracts according to your guidelines.
Legal departments often suffer especially from a lack of resources and are under pressure to work more efficiently and productively. The workload is often so high due to the manual review of contracts that there is not enough time for complex legal cases and individual consultations. Even if the review is carried out by company lawyers with many years of professional experience, the average contract processing time is up to two weeks. Automated contract review helps in this case and lets lawyers reliably and correctly review contracts within minutes.
A high workload increases the error rate. Especially in legal departments, errors can have serious consequences and become immensely expensive. If a company should therefore be concerned that adequate corporate risk management is no longer properly ensured, automated contract review can remedy this situation.
If as a result, one or more of the criteria mentioned should apply to your company, it makes sense to think about investing in automated contract review. The AI-supported software helps to optimize your workflow, achieve the best possible results and save costs and valuable resources in the long term.
Figures, data and facts on automated contract review in an overview
The advantages of automated contract review can also be expressed in measurable percentages. A short list of these data can be seen below:
Acceleration of the contract review process by up to 80%
Flawless contract reviews with up to 90% fewer errors
Reduction of contract processing time by up to 85%
Lower liability risks (all contracts can be reviewed)
Faster closing of deals (by up to 80%)
Objective and standardized contract reviews
More time that can be invested in value-adding work such as legal advice
Automated contract review: The future in the legal department? A conclusion
In conclusion, it can be said that the automatization of the contract review process is particularly well suited to building up technology competencies in the legal department. It is a simple, first process that benefits from digitalization. In addition, not only are negotiation processes with contract partners accelerated through the automated contract review. At the same time, risks are minimized, more thorough work is enabled, company standards are automatically adhered to and legal costs are reduced in the long term. The additional capacities gained in the form of hundreds of working hours per year can in turn be used for additional legal advice or for other areas of law.
The handling of automated contract review is also easy for specialist departments and guides them step by step through the entire review process. Contracts which are several pages long can be reviewed within a few minutes and the entire contract review process is standardized. This creates free capacities that can be used to strategically advise the company on important issues. The standardization also enables an efficient internal collaboration between specialist and legal departments. Thus, the use of automated contract review in dynamic competition, with the associated high cost pressure for the company, can lead to a real competitive edge.
Would you like to learn more about automated contract review? No problem! Please attend our webinar on "Opportunities for the Legal Department" or contact us for more information on our product. We are looking forward to talking to you!
Recommended Articles
Contract Analysis: What is Achievable with AI Today
Contract analysis is a crucial process in the business world, aiding in risk minimization, ensuring compliance, and maximizing value from business relationships. With ongoing..